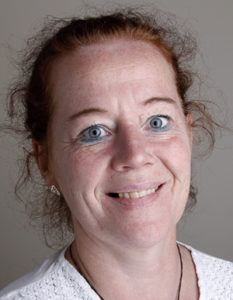 2094 0321
tinna@dui.dk
Tinna er medlem af DUI-Odsherred
Tinnas kandidatur støttes af følgende afdelinger: Rødovre, Hvidovre, Avedøre og Lolland
Tinna Glisbo, nuværende næstformand, ønsker at genopstille som næstformand på Landsmødet den 24. oktober 2020.
Motivation til genopstilling
Børn, unge og familier skal have et godt og meningsfyldt fritidsliv.
Min ambition er, at DUI-LEG og VIRKE er det naturlige valg for både børn, unge og familier.
– Jeg stiller op til næstformandsposten igen, fordi jeg brænder for at skabe et fundament for, at flere børn og unge har muligheden for at deltage aktivt i et foreningsfællesskab. Jeg vil gerne bidrage med mine erfaringer, og jeg er parat til fortsat, at tage del i ledelsen af DUI-LEG og VIRKE.
Jeg er et menneske med et stort hjerte, og jeg brænder for, at flere børn og unge skal have muligheden for at være en del af et fællesskab, hvor de dannes, møder et rigt fællesskab omkring aktiviteter, bliver lyttet til og møder omsorg og nærhed. Mit store fokus er at være med til at nedbringe social udsathed i Danmark. Mit store ønske er at se vores organisation gro med stort fokus på børne- og ungeindsatsen.
Jeg har en god erfaring med at skabe lokale aktiviteter, og jeg brænder for at udbrede de erfaringer til hele DUI-LEG og VIRKE.
Om Tinna Glisbo
Mine opgaver, som lokalformand ,er at skabe motivernede og tiltrækkende aktiviteter i afd, samt fastholdelse af de unge i afd.
Som næstformand på landsplan er mine opgaver at være en del af ledelsen i DUI leg og Virke, samt at medvirke til at skabe udvikling, ro og en økonomisk balance i hele organisationen.