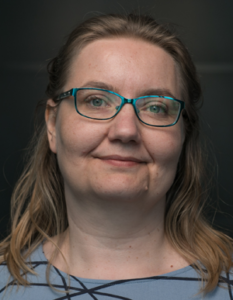 Mette Karlsen er afdelingskasserer i DUI-Struer og DUI-Struer Orkester.
Som barn blev Mette medlem af DUI, da hendes forældre oprettede en DUI-afdeling i Galten.
Mette har både prøvet at være børnemedlem og voksenansvarlig i LandsBørneUdvalget (LBU). I en periode var hun næstformand i DUI, og gennem årene har hun også haft flere andre tillidsposter i DUI.
"Det gode ved DUI er, at vi er et tilbud til børn, unge og familier, som måske ikke passer ind andre steder. Der skal være plads til alle! Og DUI er med til at sikre, at alle kan få et fornuftigt fritidstilbud," siger Mette.
Til daglig arbejder hun som gymnasielærer i Holstebro. Men den helt store fritidsinteresse er altså DUI, og hun er en hyppig gæst på JUBI-lejre, brætspilsfestivaller og andre DUI-arrangementer.
Faktisk var det på en JUBI-lejr, at Mette og Flemming begyndte at komme sammen. De to er nu gift og har to børn.
Som hovedbestyrelsesmedlem i denne valgperiode ønsker Mette at bidrage til at forbedre samarbejdet i DUI:
"Det skal handle om fællesskab og ikke om splittelse," slår hun fast.
22 88 39 20
mk@hogym.dk
Mette er medlem af DUI-Struer og DUI-Struer Orkester.